While many people like to bundle up and stay indoors drinking hot chocolate in the winter months, it is a tremendous time to get outdoors and explore nature with your camera.  There are so many wonderful compositions that can be captured in the Carolinas during the winter months.
Before you head out, be sure to dress appropriately for the conditions.  You will need
to dress in layers so you can add and remove layers as needed.  Hand warmers are essential for keeping hands warm and ready to manipulate equipment.  Proper attire for your feet is so important, too.
Just this past winter, I had the wonderful opportunity to shoot ice formations at South Mountains State Park with friends and fellow CNPA members.  The walking conditions were treacherous.  My friends were well prepared with ice cleats to make walking safer. Although I was unable to explore many places due to lack of proper footwear, I did manage to crawl my way down to the water in order to capture some images of ice on the water.  Once there, I just spent a great deal of time creating images in one area.  I will be sure to have ice cleats this winter for such occasions.
These are two of the images I was able to capture from that spot at South Mountains State Park.
Since there aren't as many colors to work into your compositions in the winter months, you will need to focus on the design elements.  One day last winter, I went out just focusing on shooting diagonals.  I was pleased to find diagonals as the subject for several of my winter compositions.
Snow and ice take scenes that would otherwise be ordinary and make them extraordinary.  Just keep your eyes open and focus on what is keeping your attention.  During a recent trip to Bass Lake, my eyes were drawn to the reflections on the water.  The light at that time of day was amazing.  I attempted many compositions until I was able to capture something that showed what I was seeing and feeling that day.
There are such wonderful scenes to capture in winter.  When you see a scene that grabs your attention, capture it with your camera.  You can always delete it if it doesn't meet your expections when you get home.
One morning, while walking into the elementary school where I work, my eye was caught by a bird's nest in a tree that was filled with berries.  Instead of going into work, I got my Canon G11 out of my purse (ALWAYS have some camera with you at all times), and started taking pictures of the nest.  My coworkers going into the building thought I was crazy, but I knew I would have a wonderful winter image to process that afternoon after my work day.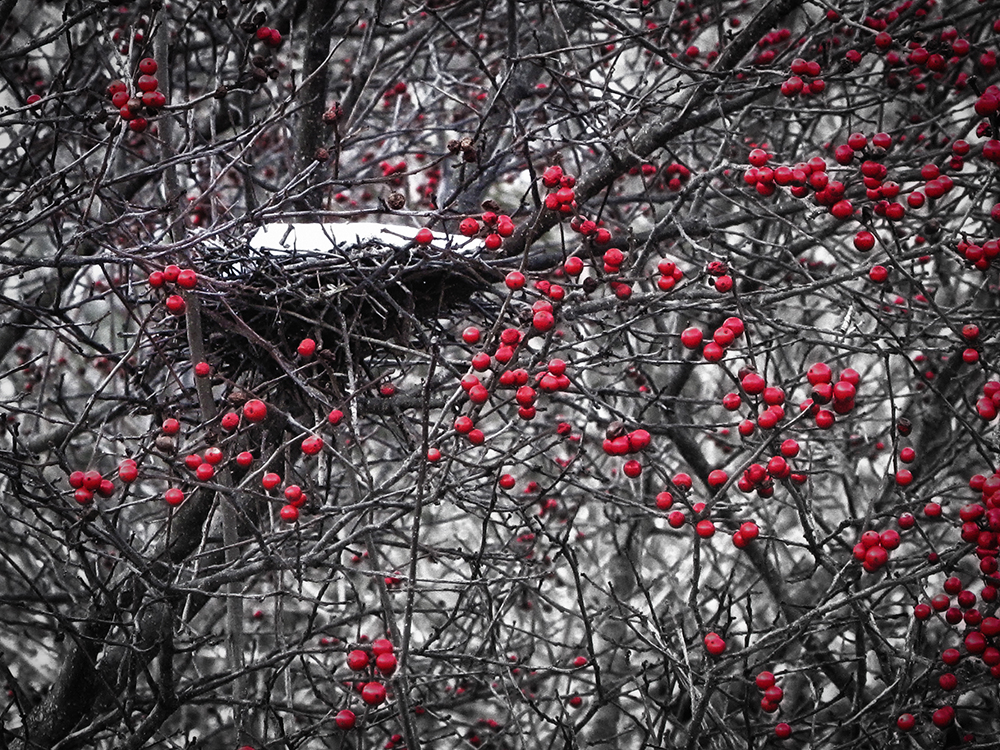 Although I enjoy shooting alone many times, I also greatly enjoy the company of family and friends when shooting.  One of the bonuses of having friends and family come with you is that you can incorporate them into your images.  (Note:  It is extremely helpful if you can coax your friends and family members to wear red or other pleasing colors to photograph in your scenes.)
The most important thing you need to do it just get out there.  One of the bonuses of shooting in the winter is that you don't have to fight the crowds to photograph in your favorite, scenic spots.  Get out there and capture what others are missing because they are home drinking hot chocolate.
Your hot chocolate will taste so much better as you post your processed winter images for others to enjoy.
Please visit my winter gallery to see more of my winter images.