My family and I had a trip planned to ring in the New Year.   Our original plans were to going skiing in West Virginia.  The trip was a Christmas present for my son and his girlfriend.  Although we were all set for skiing, mother nature had other plans.  It had been unseasonably warm in our part of the country for weeks leading up to New Year's Eve.  On Christmas Day, we were contacted by the ski resort letting us know there would be no snow on the dates we were scheduled to be there.  We turned to look for a plan B trip.
Charleston, South Carolina has always been
a favorite destination for a weekend getaway for our family.  I lived in Charleston, South Carolina for five years.  It is a very special place that, although you might leave Charleston, it never leaves you.  I find a chance to go back whenever possible.
We decided to take a Harbor Cruise to celebrate the New Year.  Prior to going on the cruise, we went to Waterfront Park.  Waterfront Park opened when I was living in Charleston in 1990.  It is a popular place to enjoy while in Charleston.  There are two fountains in the park which are regularly photographed.
We thoroughly enjoyed the Harbor Cruise.  After midnight, my husband and I went to the top deck of the ship just as it was nearing the Cooper River Bridge.  The light and the clouds caused such gorgeous light surrounding the bridge.  The image of the bridge at the top of this post was my first image taken in 2016.  It was a great way to ring in the new year!
Whenever visiting Charleston, you need to make sure to visit the Charleston City Market.  We went there looking for a birthday gift for my mother.  We were not disappointed.  My son found the perfect gift for his Grandmother at the market.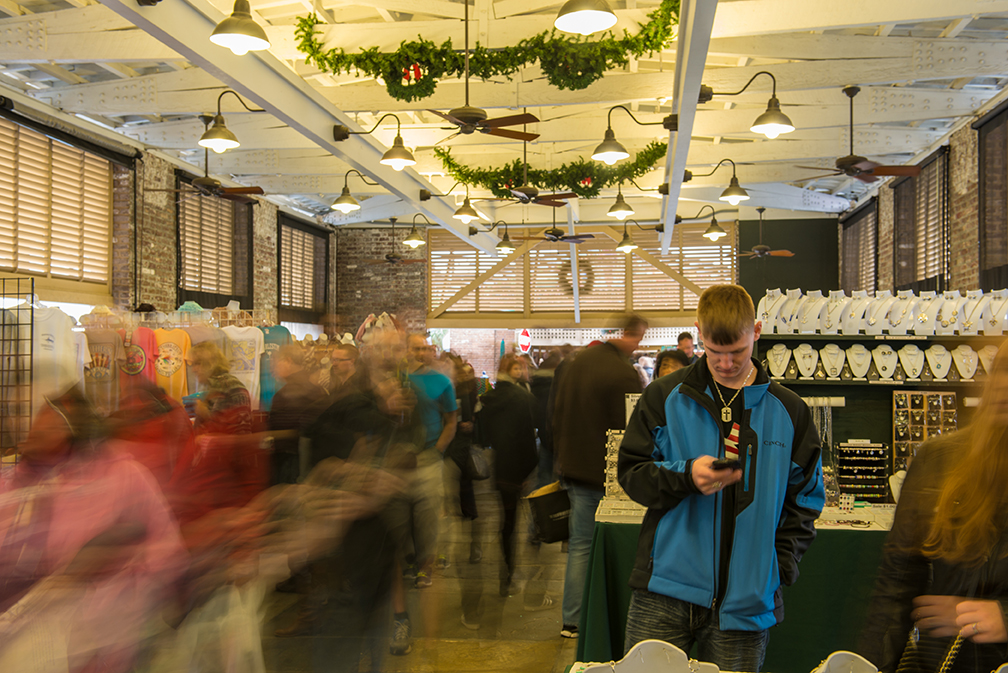 When I took this picture, I wanted to give the viewer a sense of the busy activity that is always present at the Charleston City Market.
I look forward to sharing more of our New Year's trip to Charleston, South Carolina with you next time.