One of my favorite places to visit for a day trip when I have company is Grandfather Mountain.  Grandfather Mountain is located in Linville, NC.  If you plan to stay overnight, you can choose from places in Linville, Pineola, Boone, and Blowing Rock.  Each of these locations are within a half hour drive to Grandfather Mountain.
I am so fortunate that Grandfather Mountain is a two hour drive from my home.  This makes the trip one that can be made
for just one day of enjoyment.  This Thanksgiving holiday, my brother and his wife are in town for a couple of weeks.  I was sure to put a visit to Grandfather Mountain on the top of our to do list.
I am a regular visitor to Grandfather Mountain.  Grandfather Mountain has two events specifically for photographers.  In June each year, there is a Nature Photography weekend at Grandfather Mountain.  This weekend event is geared toward the nature photographer.  The event includes presentations from wonderful speakers.  Participants also work through the weekend to capture a photo to enter in the yearly contest.  Then, in August, there is another weekend seminar that is geared more for photojournalists.  I have been a participant in both events for multiple years.  I have enjoyed each of the events at Grandfather Mountain.  I have also been a season passholder for years.
Friday, was a perfect day to take my brother, Paul, and his wife, Janet, on a day trip to the mountain.  The weather was perfect and drew many crowds to the mountain and to the Mile High Swinging Bridge.
While many guests enthusiastically make their way across the Mile High Swinging Bridge, others are much more hesitant to make their way across the bridge.  This suspension bridge has been a favorite feature of those visiting the mountain since 1952.
Mid-way across the bridge, those who brave the trek, are reminded of how high they are at the mid-way point.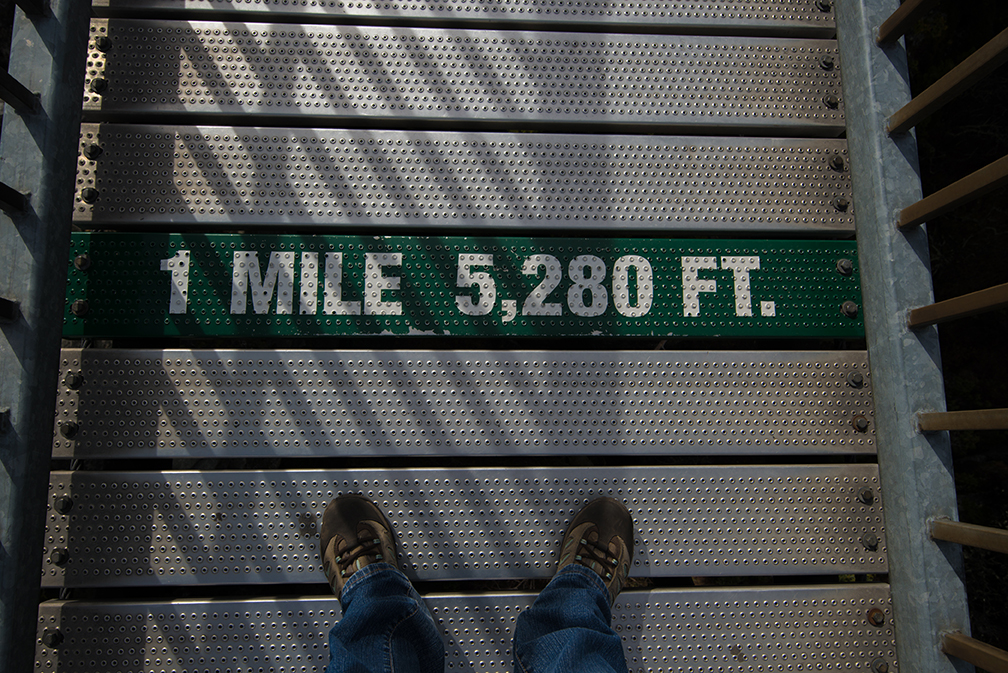 Those crossing back over the bridge can often be viewed with looks that show a sense of accomplishment and relief.
Another wonderful feature of Grandfather Mountain is the wildlife habitat.  Otters, bears, eagles, deer, and cougars can be seen in their habitats on the mountain.  Friday the bears were out and active.  This is a favorite image I made of one of the bears in its habitat.
I tend to be a photographer who does much better with subjects that don't move.  After viewing my images, I did come to like the way this "motion blur" of the bear turned out.  Let's just pretend it was intentional.
When you have time for a day or weekend trip, be sure to put Grandfather Mountain at the top of your list!